Leading for wellbeing through Covid-19: Part 3
While COVID-19 is a tragedy of unknown proportions, the enforced power-down has some silver linings for many of us: seeing more of our families, our days are less of a mad race against the clock, we've got more manageable workloads and the risk of burnout is lower. 
But we shouldn't assume these positives are true of everyone or that they will last. It's a daily moving thing. 
There's no longitudinal research on what happens when singles or families are required by government regulation to stay at home for months on end, because it has not happened in living memory.
Digital options help but they're not the whole solution. In Part 3 of Leading for wellbeing through COVID-19, we're going to take a look at what really happens when fishermen can't go to sea. 
How can organisations and individuals manage their boundaries to retain their balance during this long storm? Ideas and practical suggestions in the link below. 
Add your name and email below to download Leading for wellbeing through Covid-19: Part 3.
(If you're already a subscriber, you will still need to confirm your details to receive the download link).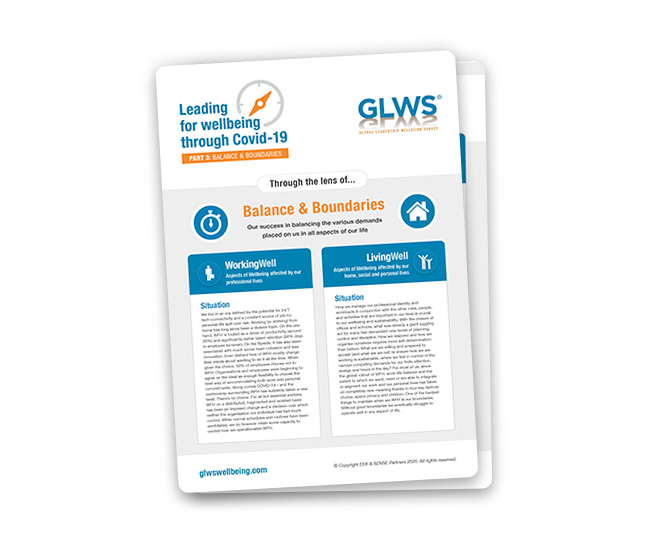 See the GLWS™ in action now with a suite of sample reports
If you are a leader, or a coach working with leaders, you can find out how the GLWS works in practice by reviewing our suite of reports. Sign up here to get instant access.