The single biggest leadership challenge of our time: My Top 10 observations and insights.
The single biggest leadership challenge of our time. My top 10 observations and insights.
Managing the psychosocial health and wellbeing of employees is a complex, adaptive, and emergent leadership challenge. In fact, I believe it's the leadership challenge of our time.
Why? Because unlike other leadership challenges, it's a tricky, Rubix-cube of a challenge that doesn't sit neatly under one area of the business. Rather, it sits at the intersection of leadership, culture and business operations and responding to it requires a strategic perspective that starts with a multi-stakeholder commitment that psychosocial health and wellbeing in the workplace is a shared responsibility. Every employee, team, leader and the system itself (job design, culture, systems, processes) all play a vital role.
It's a challenge that's owned by no-one and everyone.
And it certainly shouldn't sit in the realm of Health & Safety.….all by itself, alone and unloved by the rest of P&C, Risk and Finance
It's complex work that is generating a lot of noise and confusion. Not only because the subject matter is complex in and of itself to get your head around – after all we're talking about the dynamic interplay of individual psychobiology combined with a multitude of external forces that impact wellbeing and performance.
But the noise triggered by the impending regulatory changes for managing workplace psychological health, has ensured that attention is now being paid at the highest leadership levels, where potential governance, compliance and risk exposure flags have been raised. Questions are being asked and the answers are not clear cut.
One thing is for sure – the challenge goes well beyond risk identification and requires a strategy which actively promotes thriving.
This isn't possible to achieve without lifting the conversation up and outside of a technical and regulatory Health & Safety perspective and integrating with leadership and culture.
So, what should an integrated approach to workplace mental health and wellbeing look like and what is required for forward momentum and success?  I've summarised my top 10 observations and insights…
I'd love to hear your comments and insights to this emerging leadership challenge.  What are you seeing and hearing in your organisation or from your clients?
My top 10 insights on the current state of workplace wellbeing …
? 1. We are seeing a significantly changing distribution of leaders who are thriving, striving, struggling, languishing, and unwell.  The number of leaders self-reporting as "Thriving" is decreasing and leaders are increasingly reporting themselves as Struggling or Languishing.

? 2. Managing the psychosocial health and wellbeing of employees is a complex, adaptive and emergent leadership challenge.
? 3. It's important to resist pressure to provide populist, simple, and immediate technical solutions to complex long-term and systemic needs. Emerging business challenges directly associated with impact on mental health and wellbeing include:
Intention to stay/leave
Hybrid employment patterns
Elevated workaholism and burnout
Nuanced impact of autonomy, empowerment, and flexibility
? 4. It is essential to adopt a multi-stakeholder approach to outlining who is responsible for employee wellbeing. For example, our T.O.I.L.S framework provides guidance for Teams, Organisations, Individuals, Leaders, and Society/Systems.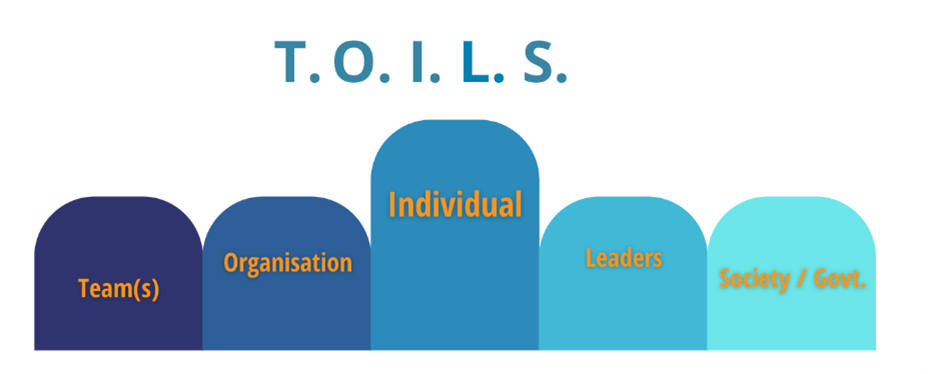 ? 5. Essential everyday leadership actions should include:
Role modelling
Permission giving
Advocacy
This allows leaders to create a positive leadership 'wellbeing' shadow. This also creates intentionality around what leaders say, do, prioritise, and measure — in order to positively promote their own wellbeing and their employees' wellbeing.
? 6. Leaders are required to take a balanced consideration of all factors impacting psychosocial health and wellbeing. This includes managing the interplay between 'seed and soil'.
Seed: recognise that individual psychobiology (genes, habits, and lifestyle) is accountable for approximately 30% of the factors at play influencing one's wellbeing at work.
Soil: also consider the numerous factors at play from the system:
Role demands and resourcing
Team and leader dynamics as well as psychological safety
Organisational culture, rewards, recognition, and safety practices, policies, and norms
Evolving home-work (hybrid) conflict
? 7. An integrated approach to mental health and wellbeing in the workplace means leaders taking ownership of creating and embedding processes:
To ensure there is an effective organisational response to treating and recovering from psychological ill-health and harm
To prevent or minimise individual and organisational habits, practices, and processes that may harm in the workplace
To promote ways of working and living which will optimise thriving
? 8. Regulations are moving rapidly towards an organisational requirement to:
Identify what negative risks (hazardous demands) and positive resources exist
Assess individuals' experiences of these and any imbalances that may exist
Intervene to control or improve them
Monitor and review these on an ongoing basis, year on year
? 9. GLWS leader wellbeing data shows a downward trend in overall wellbeing and work-related wellbeing levels for leaders.  There is a perverse irony of increased pressures and accountabilities on leaders to care for their people's wellbeing, whilst they themselves are struggling.
Recognising that Leaders are part of the problem AND the solution, the GLWS approach is to help them LEARN, LIVE, LEAD, and EMBED better mental health and wellbeing practices for the benefit of all employees.
The GLWS assessment and reporting system is recommended to identify, assess, develop, and monitor leaders' wellbeing needs and challenges at the individual level, and aggregated collectively to meet organisational needs.
? 10. Key points when considering your approach to employee psychosocial wellbeing assessment include:
What are the organisational and/or individual needs driving the need for assessment of wellbeing? Is it only about regs and risk management?
What outcomes are you seeking to achieve, in the short term and long term?
How will the collected data be analysed, and how will insights be reported? In what format, when, to whom, and for what purpose?
How will the 'data paradox' be managed — including the need for de-identification and desire for longitudinal benchmarking?
What will the individual employee experience be from what you are asking them to participate in?  How will they be impacted?
In the context of the above, how reliable, valid and fit-for-purpose are the assessments and processes you are considering deploying?
And a bonus insight about Gender…
? Leader wellbeing, in general, has seen a decline over the past few years. But specifically, the adverse impact on senior women, due to factors associated with the pandemic and hybrid working patterns is now evident.
See the GLWS™ in action now with a suite of sample reports
If you are a leader, or a coach working with leaders, you can find out how the GLWS works in practice by reviewing our suite of reports. Sign up here to get instant access.