Defeating distress: surviving – and thriving – in the 21st century 'pressure cooker'
Defeating distress: surviving – and thriving – in the 21st century 'pressure cooker'
In the world of psychotherapy, one of the most important goals is to help a client sit comfortably with their distress, to explore it, label it, and consider it from different angles all without trying to change it or push it away. Because when it comes to distress, the only way to get past or accept it is to mindfully experience it.
Channelling this awareness of our feelings – pleasant and unpleasant – is good therapeutic practice. It's not about being negative or pessimistic, it's about being honest with ourselves. And if we're going to emerge from this challenging time as thriving – not just surviving – leaders and professionals, we're going to need to recognise, identify, tolerate and overcome or accept our feelings.
Acknowledging, understanding and overcoming our natural feelings of distress
Our personal and work challenges are increasingly being set against a backdrop of natural disasters – devastating drought, fires, storms and now floods and landslides – and the distress of experiencing or helplessly witnessing the suffering of so many and the uncertainty of what it means for us all.  These challenges deliver an extra, even primal layer of complexity with potentially unsolvable stressors.
Globally, the growing reality of climate change has confronted almost everyone, transcending all but the most extreme of socio-economic and generational divides. Political trends and ructions with their resulting geopolitical instability and societal unrest have shocked even the most complacent or agnostic into being worried. Failures of the world's most civilised institutions and democratic processes to be either civil or democratic have shaken core beliefs. And, for a bit of added fun, coronavirus has ignited the fear of (yet another) pandemic health crisis, bringing with it a nasty dose of Sinophobia.
These constituent variables combine in different ways and with different weights to threaten our feelings of control and the certainty of life as we know it.  For some of us, they pose deep questions which gnaw away at our soul; demanding answers and prompting exploration of the meaning and purpose in our lives. For others, they raise feelings of anger, despair or loss; fuelling a lurking fear of what lies ahead and forcing us – confronted us with our lack of control – to push down our feelings of powerlessness.
The outcome of these crises-related feelings can be significant for individuals and business. In conjunction with the elevation of more everyday personal challenges and workplace stress, we're seeing levels of loneliness, anxiety, depression and complex mental ill-health challenges grow like a crop of noxious mushrooms. Think about Hong Kong, societal turmoil has seen huge spikes in anxiety, depression and increased visits to psychologists. Under the weight of this widespread distress, employers have been left wondering how to care, how to respond, even how to survive. Closer to home in Australia, we are witnessing the impact of 'climate fear', particularly among our young people – a new and defining phenomenon of the last decade.
What an important, complex and rewarding time it is to work in the mental health and wellbeing arena. It makes us more determined than ever to stay focussed on our mission. 
At the end of last year, we forecast massive systemic change within organisations' approaches to wellbeing. We believe it even more now. The appetite and desire to do better has been building steadily for years. The plight of the world's 'crises' amplifies the case.
Mental health and wellbeing have never before been on the national and international agenda in this way. But how do we take this conceptual commitment to better mental health and wellbeing for all and turn it into the lived reality for leaders and their teams?
Defeating distress in the workplace
What's needed now is good transformational change management for organisations' strategic wellbeing goals. We have a compelling case for change, and we know what the ideal future state of good mental health and wellbeing looks like. So what path do we take to get there, and where do we place our attention? What are our most important priorities, and how do we change the habits of individuals and whole organisations to support growth, sustainability and better mental health?
We'll bring you more thoughts on this as the year progresses, and we have a series of interesting ideas and potential solutions that we're busy cooking up (ooh, we do love to tease you ?)
In the meantime, here's the reward we promised: it's a very practical strategy to share with you.
​Problem summary:
As coaches and psychologists, we are committed to helping others thrive.  As leaders, we have a responsibility to set the culture within our workplaces and role-model positively for our teams.  And for all of us as individuals, it's about safeguarding our own wellbeing and watching out for those who we love.
How do we best go about doing this while living in a time where we are grappling with crises on both a global and individual scale?
Solution:
With an intentional and purposeful analysis of our unique wellbeing needs at this time in our lives, and with a deep understanding of where and how we are, where and how we want to go and be, and how we will support ourselves to get there.
The magic in this process is in the cultivating of authentic hope, personal agency and the positives that come from being able to imagine and create a better future.
None of us can single-handedly control these forces that are bearing down. Perhaps we may be able to exert some influence, mitigating or defensive, protective actions. Certainly – with some intentional changes we can experience a reduction in our stress, an increase in our health, and a greater enjoyment of life, with elevated fulfilment and success at work.
Sounds like a good plan?
Well, talking of good plans, with this first edition of our wellbeing insights for the year, we are ourselves feeling much happier and better as a result of being able to present to you our Personal Productivity & Wellbeing plan. 
Add your name and email below to download Your Personal Productivity and Wellbeing Plan.
(If you're already a subscriber, you will still need to confirm your details to receive the download link)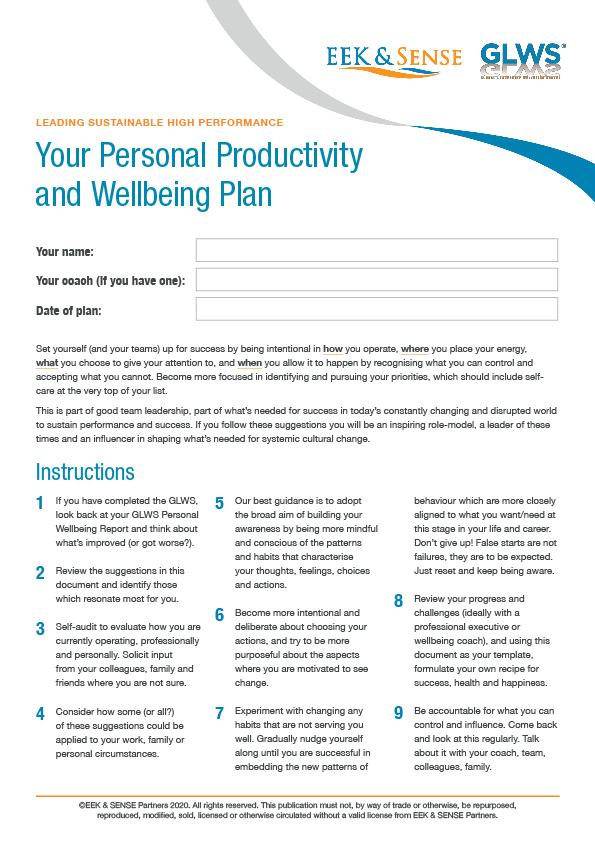 It's not everything, but it's a start.
Please appreciate, and look after yourself. 

Despite the bleak start to the decade, we are really looking forward to 2020 and the difference we can make together.  And please get in touch if any of this has hit a nerve or sparked an idea for you!
See the GLWS™ in action now with a suite of sample reports
If you are a leader, or a coach working with leaders, you can find out how the GLWS works in practice by reviewing our suite of reports. Sign up here to get instant access.